Website Copyright CloneClubs.com. Golf Club DNA Double Helix Image, 'The Clone Pro' and graphic, Screensaver, Four Ball Logo & 'It's in the Genes' slogan Trademark 2002-2023 CloneClubs.com - All Rights Reserved


SiteMap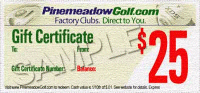 We are giving away a $25 gift certificate to our sponsor, PineMeadowGolf. All we need is your email address and contact information. Your information will remain confidential and will not be sold or given away to anyone. We will use this information to notify you of the winner of the contest, news about the site, and additional contests, rebates, and specials we promote from time to time at CloneClubs.com. Thank you and good luck! Previous winners will be notified by the 15th of the following month. (Please see bottom of the page for additional information.)

All information is required and confidential.
Please be sure your email address is perfect, as that is the method we will use to inform you if you win. If you win, your gift certificate will be sent electronically via email, so please be sure it's correct.

Your e-mail address:
Your backup e-mail address:
Your name:
Your "snail-mail" address: (optional, however we will mail a small gift as a token of our appreciation to those that provide their mailing address.)

By entering into this contest you agree to receive such notices (never more than once a month) and you are free to "opt out" at any time. If you "opt out" for any month, you'll have to re-enter the contest to be considered for future giveaways. You may enter the giveaway only once. You may enter only for yourself, and you may not enter others on their behalf. If your email address bounces for any reason, you will be removed from the giveaway. If your mailing address is returned invalid you will be removed from the giveaway. (If you use an ISP that has spam filtering, please add "cloneclubs.com" to your "white list.") IPs are logged and cheaters will be blocked from the server.




[Back]